No matter how long you have owned an iPhone, there may be a number of features on the device you simply don't know about. The brand is constantly updating their software with each new model. Whether you have one of the latest or an earlier version of the iPhone, some of these hidden features within the new iOS 12 software can be really useful.
Here are some of the best hidden iOS 12 tips and features:
1. New Siri accents
Playing with Siri is always good fun and IOS 11 previously updated the feature by allowing users to change the voice to either male or female, as well as giving the choice of three accents: British, American or Australian. iOS 12 has now gone that step further by adding a further two new accents: Irish and South African.
2. Accidental screenshots
There is nothing more annoying than pulling out your phone and accidentally taking a screenshot in the process. IOS 12 now seems to have resolved that problem and has made it much more difficult to take a screenshot. In order to access the feature, your iPhone needs to be both unlocked and the display turned on. This is just a minor alternation within IOS 12, but will definitely make a big difference when it comes to user happiness.
3. Search Apple Music with just lyrics
Have you ever had that annoying moment when you want to look up an old song or have heard a new track that takes your fancy and you just don't know the name of it? Apple Music has come up with a solution – all users have to do is type in the lyrics and it will automatically find the track you're looking for. Of course, you can do the same by searching on your web browser, but having a built-in app linking directly to your tunes is far more convenient.  By the way, if you're on EE you can get 6 months free Apple Music.
4. USB port security
iOS 12 has incorporated a feature where USB accessories are disabled after an hour of use to prevent security hacks. It's a feature enabled by default, but can be turned off if necessary.
5. Screen Time
Most of us are guilty of using our phones too much.  To help us use our smartphones less, iOS 12 comes with a new app called Screen Time. Here you can set time limits for selected apps, check on your smartphone usage, and also schedule Downtime. With Downtime enabled, you can schedule time away from your smartphone which will restrict certain apps from sending notifications and stop you accessing certain apps if you can't trust yourself not to press that Facebook button.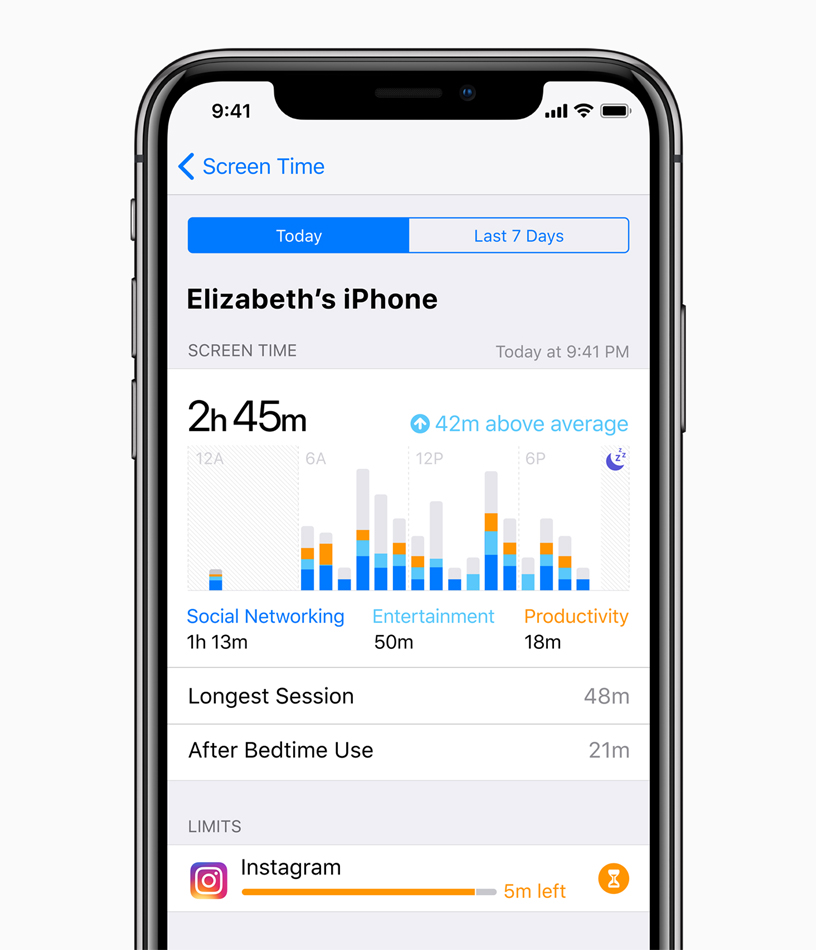 Got more tips?  Let us know in the Comments or over on our Facebook Group page – Smartphone Help, Tips & Tricks.
Subscribe for mobile news, tips and exclusive offers straight in your inbox
Head to directmobiles.co.uk for the best smartphone and SIM only deals
Visit our YouTube channel Direct Mobiles TV for the latest smartphone reviews
Follow us and never miss an update…
Facebook: https://www.facebook.com/directmobilesuk
Twitter: https://twitter.com/DirectMobilesUK
Instagram: https://www.instagram.com/directmobiles/
LinkedIn: https://www.linkedin.com/company/direct-mobiles-uk/
The DMob Podcast: https://open.spotify.com/show/7mTrNvRCXWWnkGilycRL7s
Amazon Alexa: Just say "Alexa, enable Direct Mobiles" or https://amzn.to/2HiksLD