Are you planning a project and need to work with multiple work streams? May be you want to save creative inspiration you find online for a home renovation, or perhaps you just need all your reminders in one place so you can keep better track of them.  We've rounded up some of the  best productivity apps.
We all have hundreds of things we need to get done in any given week ranging from remembering shopping lists at the supermarket, needing to make an appointment, researching something or planning an event. One of the easiest ways to increase productivity and accomplish everything you need to is to make better use of the smartphones we own.
There are an unbelievable amount of apps out there for iPhones and Android smartphones with the ambition of helping you manage your time better for the boring things and keep track, leaving you with more time to relax and do the things you enjoy.  And of course, they can help you keep your head clear of hundreds of things to remember – we all know the benefits of writing things down.
Here are some of our favourite productivity apps for your smartphone:
Wunderlist
There are a lot of to-do lists available and this one comes out on top every time. With a sleek, easy to use interface, the free version of Wunderlist has everything you might need. You can create actions directly from the web, assign folders and add dates when things are due. Your lists can also be shared with others and you can assign tasks.
Evernote
Evernote enables you to save lots of different media in one place. With the app you can create lists, add videos, links and even photos which can be synced across different devices. You can also share notebooks with other users, making your next project the easiest one yet!
LastPass
This app is a one stop shop for all the passwords you need to remember. It's a completely secure password generator that stores and automatically fills in forms and login details when you need it. LastPass works across devices including your laptop.
Otter Voice Notes
This is a smart transcription app that records what you say and transcribes your work for you. The written piece is then searchable and you can edit and share afterwards. Otter Voice Notes is really helpful if you want to dictate something while on your commute.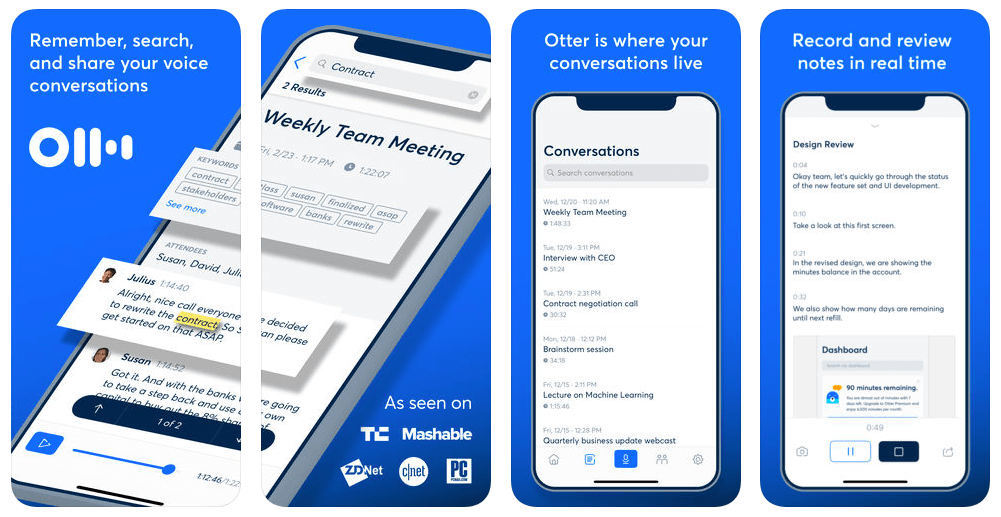 And finally, with all the time you've saved (and using your excellent iPhone or Samsung camera!), why not download One Second Everyday?  This app notifies you once a day to capture a photo or one second of video. The app then creates a video mash-up of all 365 of your moments for the year which would be pretty nice to look back on at the end of 2019.
Got a favourite productivity app?  Let us know in the Comments.
Subscribe for latest mobile news, tips and exclusive offers straight in your inbox
Head to directmobiles.co.uk for the latest smartphone and SIM only deals
For the latest smartphone video reviews, visit our YouTube channel Direct Mobiles TV
Follow us and never miss an update…
Facebook: https://www.facebook.com/directmobilesuk
Twitter: https://twitter.com/DirectMobilesUK
Instagram: https://www.instagram.com/directmobiles/
LinkedIn: https://www.linkedin.com/company/direct-mobiles-uk/
The DMob Podcast: https://open.spotify.com/show/7mTrNvRCXWWnkGilycRL7s